Steel and Marking Punch
Industrial Engraving
For individual marking solutions, our engravings department manufactures custom made steel marking punches of high quality tool steels. These steel marking punches are engraved exactly to your requirements and component drawings. Our steel marking punches are engraved precisely to your applications regarding material and hardness to reach an optimum of indenting results and durability.
We can supply the following custom made engraved stamps and dies:
Machine stamp
Welder's stamp, welder´s inspection stamp
Jewellery stamp
Logotype die, Logotype punch
Embossing die.
Beside the single character steel marking punches, punches can also be manufactured comprising more letters/figures/symbols in one stamp only. These custom made marking stamps allow marking of more than one character with one single stroke, which increases the productivity.
Custom made steel stamps are often used when company logos or fixed letter/figure combinations must be marked in mass production. In contrast to a single steel stamp, whole words or number codes can be marked therefore with a single stroke. Saving time and a better marking quality are two convincing arguments! The possible applications are countless, custom made engraved steel stamps are used in all parts of the industrial production processes.
Press style custom steel stamps
These custom steel stamps are special marking tools with a shank to fit virtually all marking presses. Press dies with shank are usually used for mass-production or serial-production, either with a single percussion press or within an assembly line. The shank, which can also be customized, serves as the connection between the marking die and the marking press. In addition, special shanks for rapid changes of the marking die are available. The possible applications are countless, custom made engraved steel stamps are used in all parts of the industrial production processes. We manufacture press style custom steel stamps either after drawing or after your sample.
Metal stamps and dies are some of the best steel marking tools available. One of the greatest advantages of metal marking stamps is their versatility. Press style steel stamps can be used for impact marking machines, punch presses, press brakes, and other machines.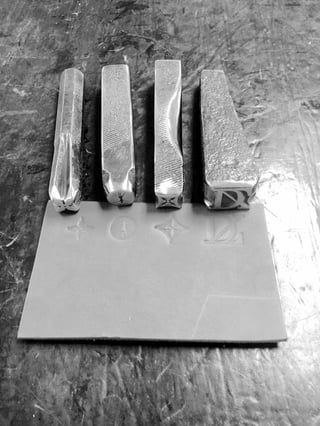 Advantages of metal stamps:
Clear marks
Durable
Permanent
Economical
Raised or sunk characters
Alpha-numeric text, logos and special characters available
Our steel stamp products are:
Durable – through hardened and annealed at hole for toughness
Heavy Duty – long life because they are made from special tool steel
Steel marking punches – Marking stamp for steel, plastic, metal, aluminium
Standard hand stamps or steel marking punches are the cheapest way to marking letter, figures, signs and symbols manually on plastic, metal, leather and other materials. At its simplest, the mark can be applied to the component by striking the punch by hammer.
Our steel stamps are made of high quality chrome steel and are hardened under exact conditions. In contrast to other punches no poor quality steel is used for these products. This leads to a long durability, a maximum in working security and an unbeatable cost/performance ratio.